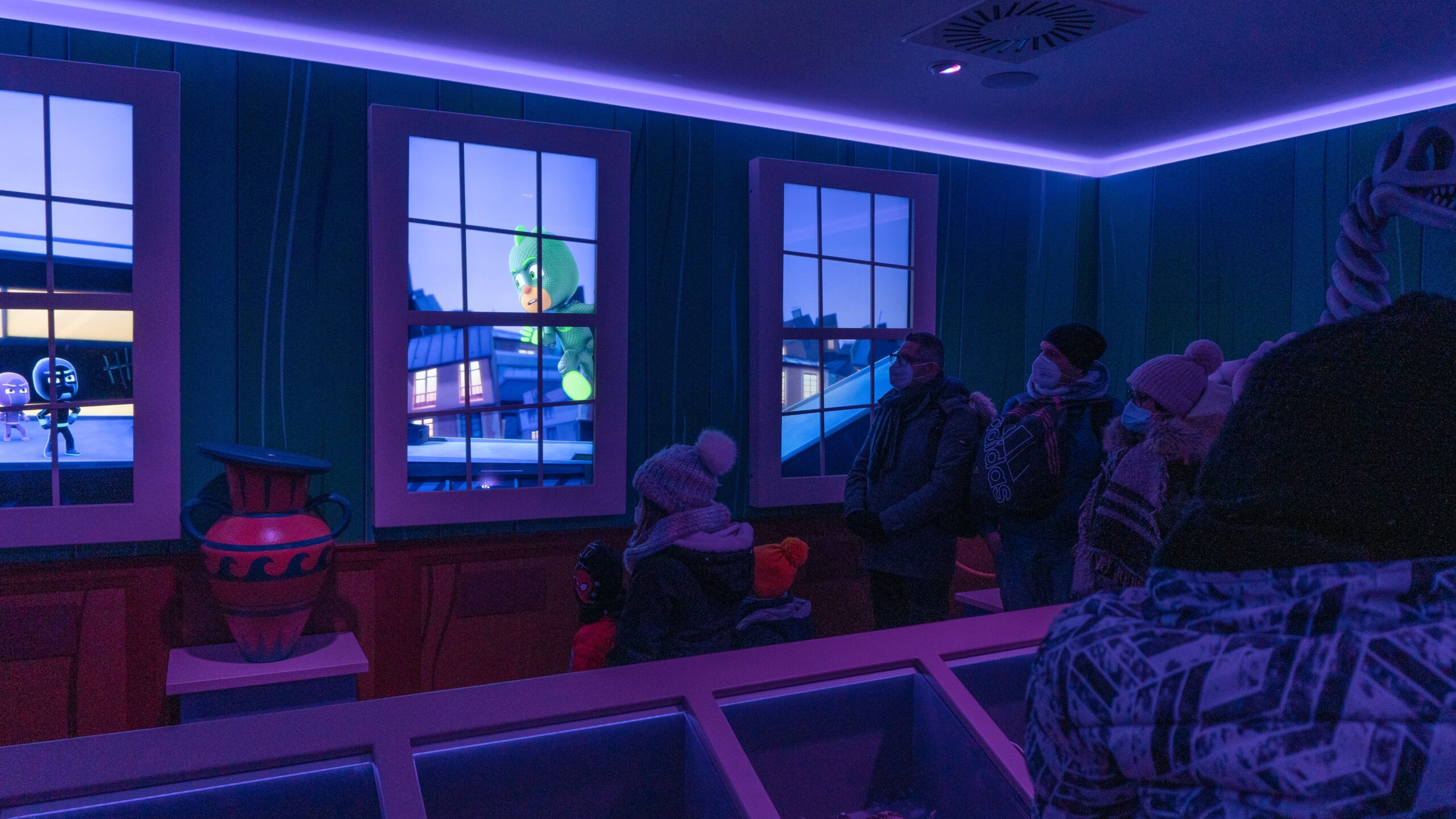 Leolandia is an Italian amusement park for kids and family, and is the number one park on Tripadvisor in Italy.
The PJ Masks Museum is the main attraction in the award-winning PJ Masks City area in Leolandia, which won the Special Jury Prize at the 2021 Parksmania Awards.
Before the PJ Masks Museum, Leolandia had never worked with media-based attractions. What they needed was an indoor attraction able to take Leolandia's little guests into an unforgettable immersive experience that could take the park's new PJ Masks area to the next level.
The PJ Masks Museum is the attraction revolving around the PJ Masks IP by Hasbro Group: it consists of an immersive experience where the park's little visitors have to solve a mystery inside a museum, with the help of their three young and colorful heroes.
Once they're inside the museum, its little guests look through a series of windows that are actually screens simulating the outside world: watching through those windows, the protagonists of the adventure surround the building, giving the park's guests the impression that their heroes are actually there!
All the museum windows are screens that follow a precise synchronization that allow you to reproduce the outside world, but with the addition of characters from the PJ Masks IP.
In this way, the park's little guests get to have an adventure that involves the antagonists of the series who aim to steal the precious skeleton: it will then be up to the three protagonists to protect it by also involving the whole audience in the adventure, giving all participants an adventure completely immersive.
The attraction features a series of 10 digital screens (8 standard 16:9 screens in full HD, 2 in 4k projection) simulating the museum's windows.
The PJ Masks Museum opened in Leolandia in August 2021.
Collaborating with a company like Red Raion was a very important added value for us. We have found a young and very experienced and professional team that supported us at all stages of the attraction development.
Are you interested in CGI content for YOUR media-based attractions?